Instagram nowadays has gained a wide number of popularity among the common crowd with an ever-growing population and new features which is attracting more non-users to come to check out the platform to have a better view of it and to get engaged in various kinds of social media activities. Among the most commonly used features available on the portal, stories are an exceptional way in order to gain that quick attention by adding pictures or video contents of the glimpse that you want to share with the crowd which will be on display of your account for a matter of 24 hours.—
Another added advantage of using stories is that this feature always appears on the top corner of the Instagram platform thereby making sure that your followers don't miss out on any important story content that you are putting out on the platform for them. Even amidst stories, you can use the Live feature which is gradually being used more now, as a higher number of Instagram users have come to realize the potential uses of going live with your followers as it also pops up on the very first of your story panel with a tab showing that you are on Live.
As Instagram is a social media platform, it is very commonly used by a lot of people of different age ranges in order to share their memories as well as get connected with others via the platform and has also given an opportunity of businesses to do as well. Many businesses hence use Instagram and its Live features in order to connect it to their marketing tips hence leading to more enthusiasm from their active followers as contents as such are more easier to watch than having to read through blogs or other written contents.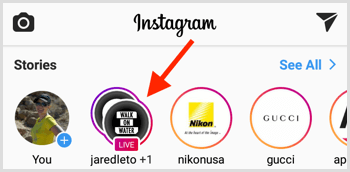 Advantages of going Live:
Rather than simply posting a story that will disappear within a limited span of time, you should always search for interacting ways that would leave a greater impact on your follower's minds especially if you are running a business account on the Instagram platform. Through this, your business would also be experimenting with newer media features which platforms such as Instagram have introduced for all its user to make use of which also could eventually help in:
stories are always given a separate space even on the platform , it is advantageous for all the followers to check out once the story is posted and if the live tab is evident on the space, they can come and join the live if they are interested and leave appropriate comments and suggestions regarding the topic you are discussing on. 
live feature is a process which can only be done on real-time there are very fewer chances for events to be completely scripted on its own thereby giving the content its essence and also giving the business holder enough and more opportunity in order to show the users that the content is authentic and hence build up their trust.
this feature often helps in gaining more exposure from the community which also lead for you to show them a different version of your business then which is commonly shown on screen which would often make them interested and also helps to develop a special bond in between you and the consumer which will definitely help in expanding your business furthermore.
In order to build your brand and to give your business an uplift, it is highly essential that you should keep up-to-date with the recent advances in your field and also arrange them in such a way to manage your crowd drives towards your brand.
Facts to keep in mind in prior:
Live feature works in similar way to every other on-screen real-time content, everything from the start of the live to the end should work in co-ordinance in order to make the event a complete success and also to make sure that you give all your viewers a good experience and knowledge which is actually worth the time that they spent engaging in your Live content with you.
you go live on your Instagram business account, it is important that you keep a cross-check of all your settings regarding the Live content by clicking on the settings display button where you can access story Live settings and from there you can make sure that the Live is made to be public to be viewable by all. In the same space, if you feel the necessity to block any user particularly from your Live content, you can always add them in the block list and also you can decide on whether to allow comments for your Live depending on the way of communication, that is if it is going to an interaction basis or a one way conversation from your end.
It is also ideal that you decide on a schedule for your Live platform as in a specific date and time can be decided prior to your Live as you have to take your follower list and their lifestyles into account before getting into planning on the specifics. Once the basics are set, you can always notify your Instagram family prior to the event through a post or a story, so that they can also plan their schedule accordingly and make time for your event.
it is vital to decide on a basic plan of flow for your Live content as the content that is being displayed should be in a controlled flow which runs smoothly without causing any interruption to the user or to your business and you can even pen down or practice on few formats that you may want to use in your initial stages of preparing a Live content as that will help you to leave an impression on the customer's heart.

Before you go live:
checking on all the fundamentals that needed to be done, you can double-check even the default settings to make sure everything is in accordance before actually getting to the task as it only involves a matter of a few simple steps that need to be done such as:
You can open your Instagram application, login with your credentials if not logged In already and while you are on the main page, you can essentially try swiping right or click on the camera button which appears on the top left corner of the screen both of which leading to the same result.
Once the first set of action is done, you will be lead to a screen that contains details regarding various types of story contents that can be used, varying from Boomerang, normal, etc to Live options which is available at the end of the row of options on the screen.
Once you spot the Live option, you can click on the Live option wherein the screen will show a white round button on the bottom middle of the screen, upon clicking which you Live feature will commence.
As it is only a matter of a single click, it is ideal that you verify your background details before going any further i.e if you are stationed at your residence or an office location, you can make sure that the background which will come up in the screen doesn't have any disturbing contents and also make sure that the microphone you are using, while you are going Live, is also checked for proper sound clarity in order to avoid any last-minute errors.
The lighting of your room or atmosphere can also be adjusted accordingly if you feel the need to and if you are planning to go Live in an outdoor location, you can also choose a common angle where the device camera should be placed or focused on, in order to provide a complete view to the user.
To get the maximum output out of the Live content that you are conducting, you can also take some time apart in order to understand the goals of this particular Live such as making sure why the Live is done, who is it targeting towards, what sort of response are you expecting from the followers and what all contents should be included in the event as such.
Live can also be done in such a way that it can be arranged as a Q & A session where you will be answering all the questions asked to you via comments, explanatory session wherein certain services or products are being explained and further information is being given on the same, factory or outlet visit session in order to show the followers a quick peek about how a day goes by in offline business, product launch wherein you can launch new products on the event, tips and feedback on how to use the products and services, talks to the expert as in arranging somebody to clarify various doubts on a common aspect of your business, etc.
Instagram also provides a share to facebook option which can also be collectively used if you want to combine both the families while you are trying to come up with a successful live program.
What does it do:
On Instagram Lives you can skip the most formal aspects of the business and be more interactive to your followers by sometimes using filter effects on you or your co-workers to show the fun level which you are trying to bring about in them. You can also be very open in your communication and try to keep your viewers engaged and entertained by coming up with new concepts and ideas in order to keep the interest levels high and also by making them look forward to more.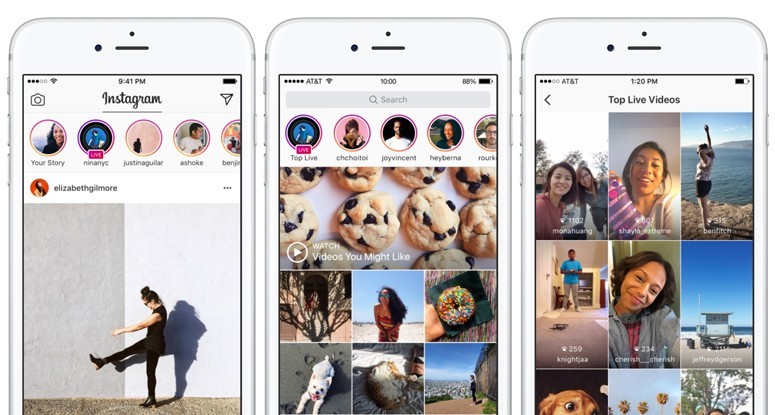 You can also be up-to-date with all the newly launched features of Instagram thereby making sure that you don't miss out on anything and use it all, in order to gain the right amount or marketing for your growing business and for your community. You can use " Go Live with a friend" feature in Instagram if you would like to take opinion or would like to initiate a collaboration with anybody else on the platform by clicking on the " Add" button on the bottom of the options list which would eventually make the display into a split-screen.
This is a way to get more exposure as well as more quick response from your followers as Live feature can be done in a very short period of time and can often prove to be highly influential for you and your future business strategies.
As by default, the comments will be enabled for all Live events, you can always edit the settings such as comment moderation in prior if you want to save yourself from getting attacked by inappropriate comments which would eventually make the content awkward to continue and to be able to focus on. Instagram also lets you add a custom keyword that doesn't want to see anybody use in the comments thereby making sure that no haters can disturb or interrupt your community and its interaction with their rude comments and snide remarks which would also save your followers time as well.
As only a few businesses are currently aware of the mind-blowing benefits of going Live on Instagram it is high time that you start working on your strategies to come up with a unique plan in order to make your Live event stand out from others. This way your current followers will always enjoy your content flow and keep looking on for more available contents from you as well as give your brand enough publicity by recommending your interesting products and services to more of their family and friends which would lead in driving more traffic back to you and helping you expand your community.