Instagram is growing rapidly. With over 400 million users, Instagram is best for marketing and making your brand visible to this massive audience.
Instagram app for android has launched a new update (v. 7.12) This update comes with new Interface which helps you manage Multiple Instagram Accounts simultaneously.
Also Read:
Get More Likes on Instagram [Hacked]
How I use Grammarly and Hemingway App to Cleverly Check my Grammar Online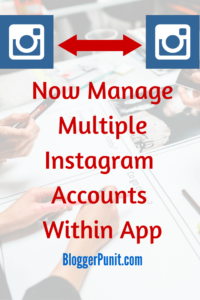 Why this new Move?
The moment Instagram started running ads, many of the marketers turned their way towards it for a targeted audience. There was a need for Business account as personal accounts are not enough to promote your business. This resulted in creation of another account.
For this very reason, Managing multiple accounts had become hectic as you have to log in and log out every time when you want to switch!
Managing Multiple Instagram Accounts with this New Update:
This is how you can manage two accounts with ease:
Click On Add Account (Below Clear History)
Log in to your Second Account.
Now you Switch between Multiple Instagram accounts with One Click!
This feature will definitely help many bloggers as we have Instagram accounts to manage. Let me know how many accounts you manage with this new update. Drop your Comments below.