Welcome to my First Interview from Instagram Influencer Interview Series where I interview budding influencers on Instagram and get to know how they started with instagram and made it to the Top!
My first guest is Steph Edwards a.ka. the Travel Girl!
Steph goes by the username: @thewannabevagabond. With over 28k followers and an engagement rate of 5%, she is absolutely killing it on Instagram with her creative content!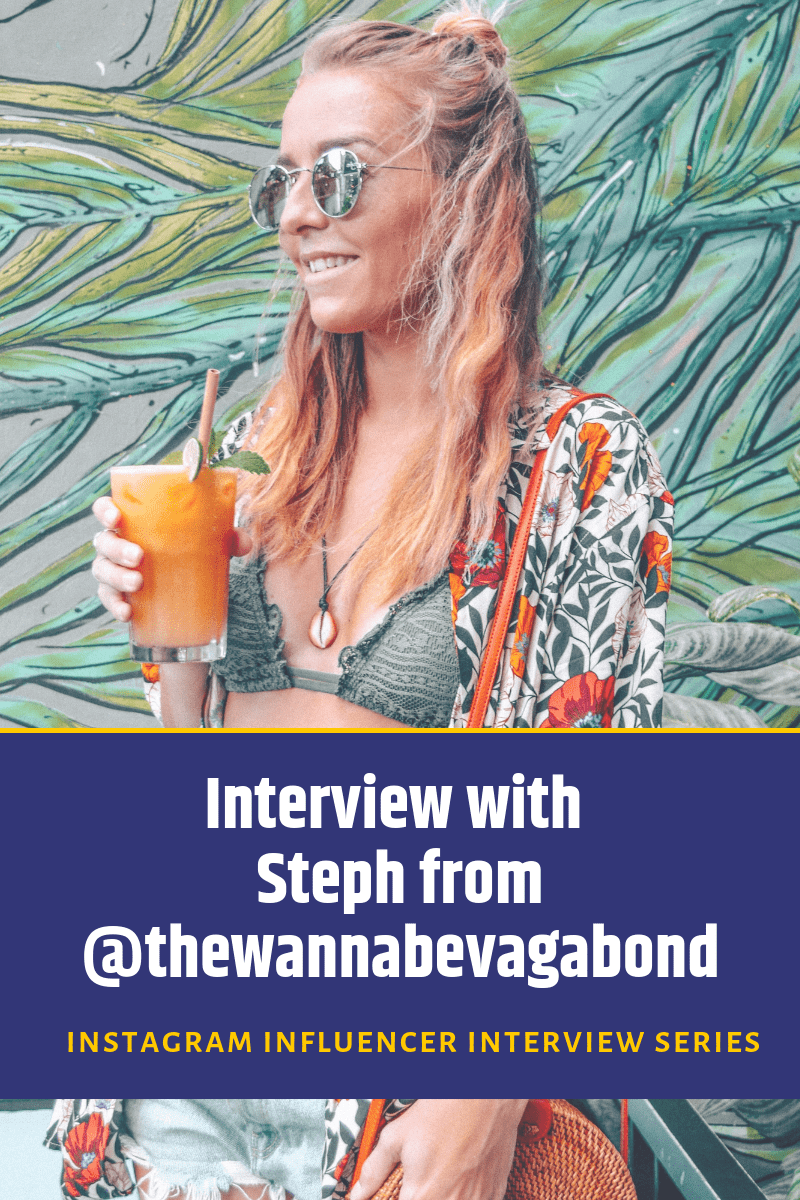 Hi Stephenie! Can you please introduce yourself to my readers and tell everyone what you do?
Hey guys! For those of you who don't know me, I'm a 5 ft 4" Instagrammer from the North of England who goes by the name Steph.
I started traveling when I was 21 to get over a guy who broke my heart and it worked! I found a new fella, he's called Travel. And I think he's the one. We've been together ever since and last year, I quit my job to travel full time.
I can say with some confidence that I've had the best year of my life so far, I traveled to 11 countries, across 3 continents, made lifelong friends and met my actual boyfriend (sorry Travel!) in the Philippines. And I've shared every bit of my journey over on my Instagram which is @thewannabevagabond
https://www.instagram.com/p/BkXWj3dhW6L/?taken-by=thewannabevagabond
What was the story behind choosing such a unique username?
I created my Instagram back when I was stuck in my 9-5 working life. I was the wannabe vagabond.
I would sit at my desk all day daydreaming about being somewhere I hadn't been before, being envious about those who did travel and wishing my life looked like that. I just didn't use it to inspire others or share my travels, to begin with, more to share my Starbucks coffee cup (yawn!)
https://www.instagram.com/p/BkUyx0nhZFq/?taken-by=thewannabevagabond
What do you love most about Instagram? Top 3 favorite features?
I love the sharing aspect of Instagram. Because of Instagram, I could keep every single person in my life up-to-date on where I was and what I was doing whilst I traveled (which my mum loved!) It saved a lot of texts home saying "yes, I'm still alive!".
As a traveler, I love meeting people from all over the world, and Instagram has become a great tool for just this. I've made so many international friends through this platform!
Favorite feature? I love the stories! Because it's just more real.
I love seeing the 'behind-the-scenes' videos of people and seeing what they actually go through to get their shots. I love how normal even the big IGers can seem when you see them having lunch, walking their dog etc.
Also Read: 10 Creative Instagram Post Ideas
Top 3 Instagram Accounts that inspire you:
SO TOUGH! Because I could write a whole list! I guess the top three accounts which I look at the most would have to be:
1. @travel_inhershoes
2. @mvandersluis
3. @lisahomsy
With so many travel Instagrammers out there, how do you differentiate yourself from others?
I try to put a lot of my personality into my account through my captions and my stories. So, I guess what means me different is me.
https://www.instagram.com/p/BmYY6ekl5VH/?taken-by=thewannabevagabond
Can you describe how you plan your Instagram feed from A to Z?
I have a Preview Planner App (IOS & Android) which allows me to organize my feed in the order I want. I usually try and keep them relatively chronological but I think being aesthetically pleasing is more important, so I use it to balance the colors out evenly.
Your favorite go-to Apps/Tools for editing your photos?
I used Lightroom to edit my photos, this is the only software I use.
How hard was it to reach your first 1000 followers?
It's tough! No one knows who you are or what you have to offer and so they're thinking, why should I follow you? The advice I would give, is to engage with people as much as possible. Make them see what you have to offer and be patient.
What's your definition of a perfect photo?
The perfect photo for me is something that makes you stop and look for a second. Creative, clear photos with a message are usually my favorite. If it can make me smile, it will get a like, comment and possibly a follow.
https://www.instagram.com/p/BkcfjfKBQgk/?taken-by=thewannabevagabond
How has your Instagram journey been so far?
It's not always easy. Some days you're winning and the followers and likes come flying in. Other days, you're posting your best stuff, your following plummets and you're sat there with your head in your hands thinking "what am I doing wrong?" – I just keep telling myself to dust myself down and carry on doing what I enjoy!
What do you think is the secret to success for Instagram?
Persistence! Absolutely 100%. Your mindset is what separates the best from the rest. If you're talented but you're lazy, you won't get anywhere. You have to work hard at it every day and be relentless in what you think you deserve.
Hustle every day. It won't happen overnight, it might not even happen in a year, but keep going and I promise it will happen eventually if you're willing to work for it.
https://www.instagram.com/p/BkIGtlDBRK2/?taken-by=thewannabevagabond
What is your hashtag strategy? How many hashtags do you use and Why?
I use all 30 hashtags. Forget about looking 'cool' or not looking 'desperate'. Think of your hashtags like your net, the more you use, the more fish you'll catch, and by fish, I mean people who will see your post! It's vital!
CAMERA VS MOBILE? What do you prefer?
I personally prefer my camera as it takes sharper images. But I have used my phone occasionally and it didn't let me down!
The Story behind your most liked photo?
https://www.instagram.com/p/Bkm0F7tgGHz/?taken-by=thewannabevagabond
This one is weird because I would have never expected this photo to be my most liked ever. I visited a temple in Bali with my friend and just stopped to admire how empty the temple was! My friend took my photo and voila! I almost didn't post it because I thought it was mediocre.
What are the 3 biggest tips you give other Travel Instagrammers who want to step up their Instagram game?
Number 1: don't expect it to happen overnight, Rome wasn't built in a day!!
Number 2: engage, engage, engage! Get a community going who actually care about what you post!
Number 3: Try to offer your followers something different that no one else is offering right now (this one is for myself too! Because I'm aware that my niche is very crowded!)
https://www.instagram.com/p/BkkP5TXAXZS/?taken-by=thewannabevagabond
Are you a part of an agency, or do you reach out to brands directly? Any tips when working with brands?
I'm not part of an agency and I don't reach out to brands. I haven't had much time on my hands but this is something I am looking to do going forward.
Where can we find you online?
I'm really all about the gram! Instagram: @thewannabevagabond
Thank You, for taking out your precious time for this interview!
This was it, guys! I will be coming up with more quality Interviews with such Instagram Influencers. I am planning on 1 interview per week. Make sure you sign up for my newsletter so that you don't miss any upcoming interviews.
If you want me to interview your Instagrammers?? DM me on Instagram:@BloggerPunit.
Happy Gramming!
[instagram-feed]